Reading

Intent
At Birchfields, we know that being a fluent reader opens a whole world of opportunities for our children. We want them to develop a lifelong love of Reading and this is central to everything we do. Early readers quickly pick up the skills and vocabulary that they need to access and engage with a wide range of exciting texts. Confident readers then use their skills to explore the world around them. All children see themselves in the things they read. Every opportunity is taken to celebrate diversity in the reading experiences we give our children.
Implementation
Early Reading and Key Stage 1
At Birchfields, we use the Read Write Inc Phonics programme as it provides a systematic framework to ensure children quickly learn how to read accurately, fluently with good comprehension. The children begin their early Reading journey in Nursery and we aim to complete the phonics programme for most children by the start of Year 2.
We use the following progression of sounds (phonemes):
Simple Sounds
(one sound represented by one letter grapheme)
Set 1
m a s d t i n p g o c k u b f e l h sh r j v y w th z ch qu x ng nk
Set 2
ay ee igh ow oo oo ar or air ou oy
Complex Sounds
(one sound represented by more than one grapheme)
Set 3
ee ea oy oi ay a-e igh i-e ow o-e oo u-e or aw air are ir ur er ou ow ai oa ew ire ear ure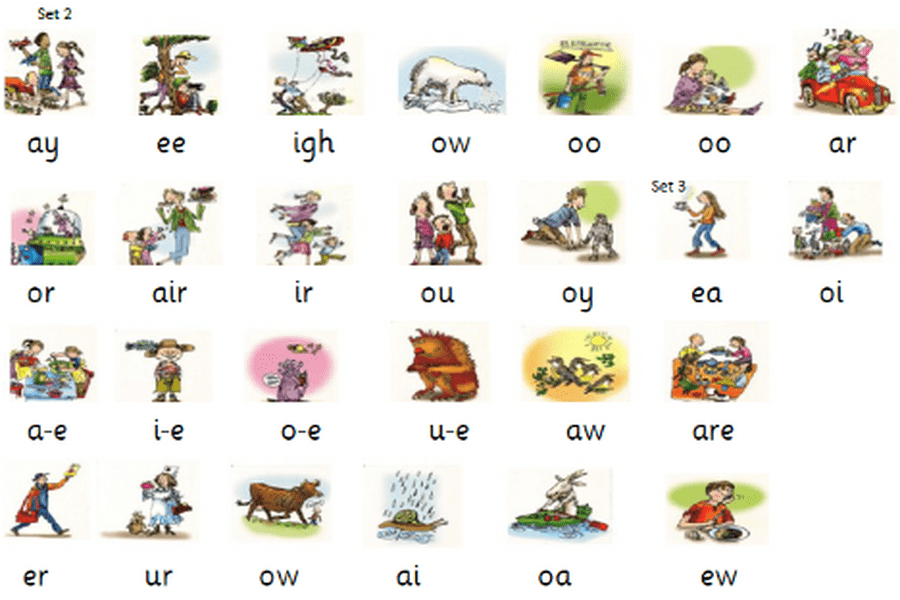 Children have a 30 minute Reading lesson at least four times a week. Reading lessons are highly collaborative. Children work in pairs and help to teach each other.
Reading lessons have two parts:
Speed Sounds Lesson

- An interactive phonics lesson where children learn a new sound and practise reading and writing this sound.

Storybook Lesson

- The children are taught to apply their phonic skills by decoding stories and non-fiction texts. Teachers clarify key vocabulary and model effective reading strategies. The children then have lots of time to practise reading as fluency is the key to good comprehension. Children use their 'fastest finger' to retrieve information. Children are taught to infer by 'having a think' and finding evidence in the text.
Children are grouped according to their decoding skills so teaching is finely tuned to their needs. Children are assessed and regrouped regularly to ensure rapid progress is made.
Children in Year 2 who have finished the RWInc program complete a words-per-minute assessment. These assessments are used to create new 'fluency' groups. Many RWinc strategies are used in these lessons but there is a stronger focus on comprehension. Challenging texts are chosen that will engage the children and help them with learning across the curriculum. The children develop a wider range of skills and Birchfield's 'Reading Dogs' are used to help achieve this.
Book Talk
Year 1 and Year 2 are first introduced to the Reading Dogs in a weekly book talk lesson. This half an hour session, focuses on understanding texts that are beyond a level they can read for themselves. Texts are chosen that will inspire the children and develop a love of Reading. During these lessons, children are taught key comprehension skills in a fun and engaging way.
Early Reading at Home
Children in an Early Reading group take home a 'book bag book'. This book is closely matched to the text they are decoding in lessons. Children keep the same text for a week (Monday to Friday) and have different 'jobs' each evening which are detailed on an instructional bookmark to ensure parents support their children with fluency and comprehension. Fluent readers in Year 2 move on to the accelerated reader programme at home (see Key Stage 2 home reading).
Reading in KS2
KS2 Reading is taught in four 30 minute whole-class lessons Monday to Thursday and is taught at the same time in Years 3,4,5 and 6. This means that children not ready for whole class reading lessons, can be grouped across the Key Stage for Early Reading sessions or other Reading provision matched to need.
Whole Class Reading Lessons
The aim of Key Stage 2 Reading lessons is comprehension - that children understand what they are reading. The three ways we help children to comprehend what they are reading are:
- Knowledge of the world of the world presented in a weekly text
- Word reading
- Understanding of the text
The ultimate aim is enjoyment and greater comprehension leads to greater enjoyment!
Texts are carefully chosen to show diversity and often supplement the year group's half termly project. They also can act as a model for the half termly writing genre.
Monday: General knowledge plus vocabulary that children need in order to access a text is shared and understood.
Tuesday: Children use their decoding skills to read the text with a partner and alone supported by the teacher modelling good Reading fluency.
Wednesday: Teachers model that week's Reading skill using the text. We teach Reading skills using Reading Dogs, with each dog representing a Reading domain.
Thursday: Children apply their learning in a written piece of work.
Some children will receive a pre-teach of that week's text and focus children are also identified to be supported by teachers in Thursday's application lesson.
Reading at Home using Accelerated Reader
The Accelerated Reader program runs alongside our Reading sessions and is used to increase accuracy in Reading comprehension and to promote reading for pleasure. Children read at home everyday. They choose their own book from a diverse and exciting range of books in classrooms. We use a reading program called Accelerated Reader which assesses the children and gives them an individual level from which to choose a book. This is called a ZPD and each half-term, children's ZPD is written in their homework planner. We use this ZPD to give children a Reading target for their reading at home. When a book is finished, children complete a short quiz, using the Accelerated Reader computer program. Passing the quiz is an indication that children have understood the book and contributes to their half termly reading target. Reading is monitored using homework planners and progress towards targets. We celebrate children who achieve their Reading target each half term. Children can also take quizzes on books that have been read to them, e.g. by Parents and Teachers. While we continue to teach the skills of Reading in class through reading texts and whole class texts, the Accelerated Reader books chosen by your child will provide them with the opportunity to apply the knowledge and skills they have developed.
Other Reading in Key Stage 2
Each class has a class novel which is read to them each week

Reading skills are applied across the curriculum regularly

Reading is included as part of written weekly homework tasks when appropriate